Wholesale Pricing
Wholesale Pricing is available, if you are interested in wholesale pricing please send an email to
taosmtncandles@gmail.com
and request wholesale pricing.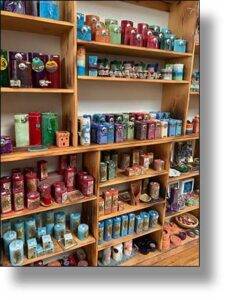 The fetish bear is a symbol of strength and power.
The candle is adorned with turquoise, arrowheads, and red willow.
Red willow means Taos in the native Tewa language of Taos Pueblo
The scents used in the candles are strong but yet calming.
Candles come in many different colors and scents.
Please check out our color and scent page and Fetish Bear Candles are
available in the size below.
| | |
| --- | --- |
| Weight | 3.0 lbs |
| Scent / Color | Cactus Flower / Cream, Cafe Latte / Light Brown, Desert Bloom / Purple, Desert Breeze / Turquoise, Indian Fry Bread / Rust, Mountain Rain / Light Blue, Patchouli Pinon / Red, Pinon / Green, Sage / Light Green, Santa Fe Spice / Dark Blue, Sweet Grass / Light Green, Turquoise Trail / Light Teal |
Only logged in customers who have purchased this product may leave a review.
Related products
Tealite Candles

Our Tealite candles are hand-poured and are available in all scents and colors. Refer to the Color Chart for available colors and scents.

Select options

Southwest Petroglyph Collection: Set of 3

Petroglyph candles have a hand-etched Kokopelli design carved into the side of the candle and are available in small, medium and large sizes. This is for a set of 3 candles. Refer to the Color Chart for available colors and scents.

Select options

The Concho Candle Collection; Large

$

12.95 –

$

18.95 price_excluding_tax

New! Candles with a concha and turquoise on our very favorite style of cats eye candles. Delicately scented, these southwestern candles are decorated with. a poncho and genuine turquoise stone that are held together with a ribbon band that completes this look of rustic elegance. They come in all the colors and scents available. Refer …

Select options