Wholesale Pricing
Wholesale Pricing is available, if you are interested in wholesale pricing please send an email to
taosmtncandles@gmail.com
and request wholesale pricing.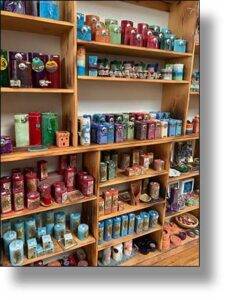 The fetish bear is a symbol of strength and power.
The candle is adorned with turquoise, arrowheads, and red willow.
Red willow means Taos in the native Tewa language of Taos Pueblo
The scents used in the candles are strong but yet calming.
Candles come in many different colors and scents.
Please check out our color and scent page and Fetish Bear Candles are
available in the size below.
| | |
| --- | --- |
| Weight | 3.0 lbs |
| Scent / Color | Cactus Flower / Cream, Cafe Latte / Light Brown, Desert Bloom / Purple, Desert Breeze / Turquoise, Indian Fry Bread / Rust, Mountain Rain / Light Blue, Patchouli Pinon / Red, Pinon / Green, Sage / Light Green, Santa Fe Spice / Dark Blue, Sweet Grass / Light Green, Turquoise Trail / Light Teal |
| | |
| --- | --- |
| Weight | 3.0 lbs |
| Scent / Color | Cactus Flower / Cream, Cafe Latte / Light Brown, Desert Bloom / Purple, Desert Breeze / Turquoise, Indian Fry Bread / Rust, Mountain Rain / Light Blue, Patchouli Pinon / Red, Pinon / Green, Sage / Light Green, Santa Fe Spice / Dark Blue, Sweet Grass / Light Green, Turquoise Trail / Light Teal |
Related products
Desert Sunset Candles 2 x 4 Square

$

10.95 price_excluding_tax

These candles are 2 x 2 x 4, each color is a different scent, bringing a flavorful aroma into your home. They are decorated with charms. Refer to the Color Chart for available colors and scents.

Select options

Tealite Candles

$

4.95 price_excluding_tax

Our Tealite candles are hand-poured and are available in all scents and colors. Refer to the Color Chart for available colors and scents.

Select options

Handmade Taper Candles

$

5.95 price_excluding_tax

Unscented dripless taper candles, great for dinner parties! Each pair is hand-dipped in our candle factory in Taos NM near Taos gorge bridge.

Select options