Wholesale Pricing
Wholesale Pricing is available, if you are interested in wholesale pricing please send an email to
taosmtncandles@gmail.com
and request wholesale pricing.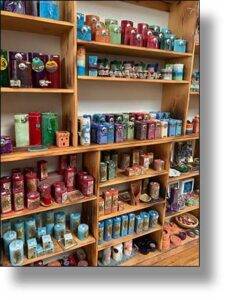 Chili Ristra Candle can be used for decoration or can be lit by cutting the candle off the ristra and placing in a holder.

Chili Ristra is one of the items you will see when you visit northern New Mexico.

All Chili candles are UNSCENTED and only come in RED.
Related products
Fetish Bear Candles: Set of 3

$

30.00 price_excluding_tax

The fetish bear is a symbol of strength and power. The candle is adorned with turquoise, arrowheads, and red willow. Red willow means Taos in the native Tewa language of Taos Pueblo The scents used in the candles are strong but yet calming. Candles come in many different colors and scents. Please check out our …

Select options